Hi, All! Hope you are well.
I have been feeling really under the weather for the last few days, but Noah and I ran out for a little while yesterday, he had a coupon for Michael's and wanted to use it ;) Maybe a little retail therapy would help. It did, a little, but I'm still fighting whatever this is that is going around.
Anyway, while we were there, I found a few cute little Halloween things...
These ceramic mini loaf pans and fluted cups were on sale for $1.00 each (plus I had a 20% off coupon for regular and sale price items, as well as a 50% off coupon for one regularly priced item. Did you know they will let you use both coupons in one transaction?). They had several fall colors, I picked the purple to display on open shelving in my cream and black and yellow kitchen for the fall and even Christmas time.
I couldn't resist these little melamine plates...I just got 4, they were $1.99 each (again, I had a coupon), and these fun bottle labels-4 for $1.99.
I also found these wooden script words. I thought I would paint this black and hang it above a gathering of black framed black and white photos.
I like the idea of using a pallet to hang on the wall with the photos inside. I found this example on Pinterest. (via
shelterness.com )
Or this from
brownpaper--packages.com.
.
Or something like this from
articlestorez.com
What do you think? I just have to figure out where to put it...
So...after we left Michael's we decided to go into Ashley Furniture and take a look around. Eventually we want to replace our living room furniture, so we wanted to take note of what they had. We did find a few pieces to keep in mind, but there were a few accessory pieces I found that I really wanted to leave with. I probably paid a little too much for them, but we always buy on sale and hardly go shopping for the house, so I went for it.
This is what we bought:
This is a rustic wire wall shelf with hooks and chicken coop-like bins. Each hook and bin is numbered, convenient for the three we have in our family. I thought this was a perfect thing for our back entry above the mission storage bench we are painting black for our back room. It's actually pretty light-weight, but we will hang it with anchoring screws, anyway. I think it will be perfect this fall and winter for hats, scarves, gloves, and of course, keys.
Next, I found this lined wire basket with ties. I liked it right away for it's rustic farmhouse look, and they were all numbered the same as my shelf. I picked the number three, again for the three of us, plus three's are kinda cute, don't ya think?
The lining is a thick heavy cotton, with a burlap look. I'm not sure what exactly I will use this for in my living room, but I'm sure I will figure something out!
If I had a large entry, big enough for a larger bench, I would love to have purchased all three of these to line up on the bench or seating in the entry for storage. After we finish the entry back there, maybe I will have a place for two more. They go with the shelf so well, and match my back room perfectly.
I'll post updates as soon as the entryway is done, so check back! If anyone has suggestions, I would love to hear your comments. I'll post pics of the entry soon, and what we would like to do with it. There are so many great ideas on Pinterest, I have a
Board
dedicated just to entryways and mudrooms.
I also found a furniture factory cart there for sale. It is considerably cheaper than this one from Restoration Hardware, but even on sale (it had some cracks, and a few gouges from the baskets like the one I bought being scraped across it), I didn't want to pay that much. Especially if I would have to sand it a bit and re-stain it and Polyurethane it. I'll keep my eye on it and see if it goes down in price a little more. Unfortunately, the Ashley website didn't have a picture of it to post here, but the one from Restoration Hardware did...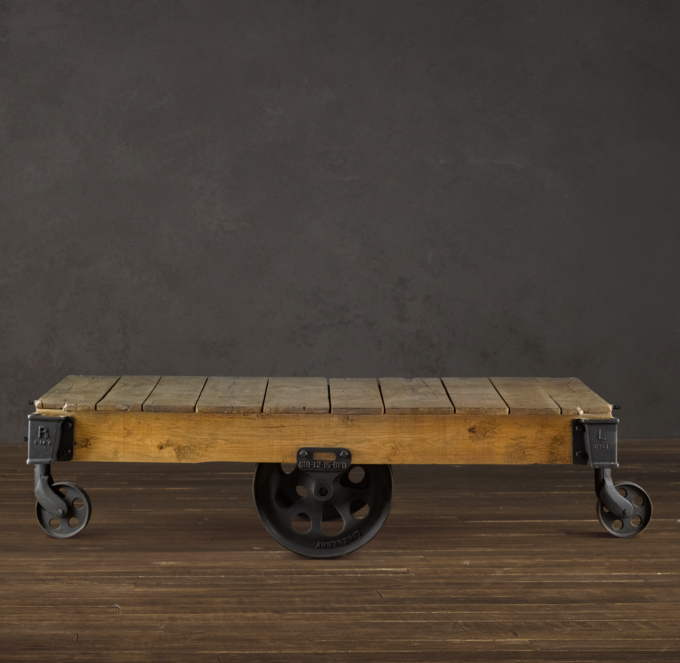 Gotta say...
I love it, but we'll see. Maybe if I can find some old casters I can make one out of some pallet wood. The one at Ashley was pretty large, I don't know if my living room will accommodate it... Oh well, a girl can dream!
The first place I saw this was Pinterest, but I found a FANTASTIC blog by a woman named Diana, who is great at making just about anything. She is a true DIY inspiration. Visit her Blog
Our Vintage Home Love,
and see for yourself.
Have a great weekend...P.S. did any of you start a compost pile, yet? :)